The Fast, Safe and Easy Way for One Person to Load or Unload Your
Motorcycle, Trike, Chopper, ATV, Snowmobile, Watercraft, Equipment etc.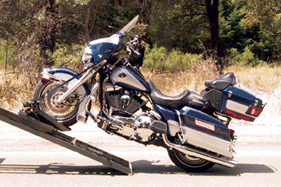 Just 2 Easy Steps !
1 Roll a motorcycle up to the cradle and tie-down the front.
2 Press the button to load. (approx 30 seconds)
To Unload:
1 Press the Button and Pull back on the track to start the motion and let gravity and the controlled reverse action of the winch lower your bike to the ground.
(Lower Your Side Stand and Untie)
(See Photos @ Bottom of Page)
---
Loader in 6 1/2ft Puckup bed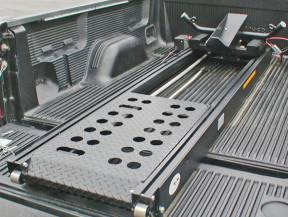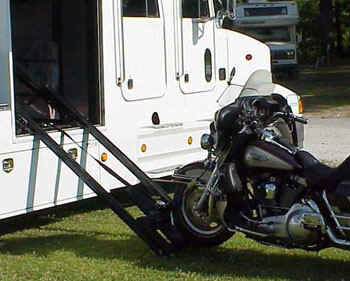 Loader in an RV Toter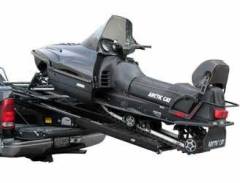 Snowmobile Attachment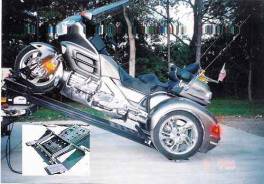 Trike Attachment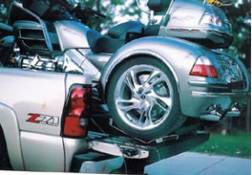 • Handles BIG Motorcycles with ease (up to 1000lbs)
• Fast and Simple – One Person Operation
•Lifts motorcycle from FLAT on the ground
•Full lift cycle time under one minute
• Strong Structural Steel 3 Piece Frame
ONE Person can set up and remove unit easily
• 2,500lb. Winch with safety brake
• 12' wired remote control (plug in)
• Two units can fit in a standard width pickup bed
• Fits almost any truck or trailer
• Easy Installation with 3 bolts
•Removes in just a few minutes
• Tough Powder-Coat Finish for Durability
Specs:
Description - Single Motorcycle Lift

Carrying Capacity

-1000 lbs.

Width – 23½"

(Two units will fit between the wheel wells of a standard pickup truck)

Length – 95" (Fits in an 8' bed truck with the tail gate closed)

(or shortbed with tailgate open) (extension = 99 1/2"avail. for Choppers)

Weight – Approximately 330 pounds (Comes in 3 manageable pieces)

Winch - 2500 pound capacity unit with integrated safety brake

Winch Cable – 4200 lb aircraft cable with nylon coating / Optional 5000 pound rated, polyester webbing

Winch Control – 12' remote (can be disconnected and stored)

Electrical Connection - #6 AWG cables with quick disconnect
Base - Low friction skids incorporated for easy ONE Person removal without truck bed damage

Bed attachment – Rivet Nut type fasteners that are installed in the bed and do not require attachment to the frame. Fasteners are installed from the top and does not require access from the bottom of the bed

Bed Height – Tested for truck bed heights of up to 39". For higher beds, please inquire. We offer to test and certify other heights as required

Bed Length - as short as 5' 4"

(Avalanche, etc.)

Removal - Removes easily. Simply, unbolt the three .5" attach bolts, unhook the quick disconnect power cable and slide the assembled lift from the bed of your truck. Convenient rear wheels allow roll-away capability. Additionally, unit can be removed by one person in 3 pieces of 55 Lbs, 110 Lbs and 135 Lbs. The two large pieces can be moved easily using the rollers on the end as dolly wheels.
Construction - Units are precision welded utilizing tooled fixtures. It is made from 1/8 inch thick, high quality carbon steel. And, the black powder coated finish provides long lasting rust protection. Has drainage slots along lower track to keep tracks clear of moisture and debris.
Uses maintenance-free HMW nylon rollers. No lubrication is required. Complete with All Weather 12v 2,500 pound electric winch and cable remote control switch. Flip the switch and watch your motorcycle load - safely, easily. Also included is an all weather cable - one end plugs into a socket on the unit, the other has 2 ring terminals that connect to the truck's battery.
The Standard lift is 95" long, and 24" wide. Front tire cradle is 6" wide and sits 7" above truck bed. A bar is attached with two bolts through the floor and bed frame at the front of the truck bed. For all pickups, 3 holes are drilled through the floor and bed frame. Route the all weather cable from this bar, to the truck's battery. The pre-assembled lift together with the winch motor is then slid into the truck bed and attached to the bar with two additional .5" bolts. Plug into the quick disconnect and you're ready to go. When in use, the tailgate must be removed on 8 foot beds and placed in the down position on shorter beds. Complete instructions are included with each lift.

2 Year Limited Warrantee
---