Portable RV Waste Pump
"Great for Boondockers"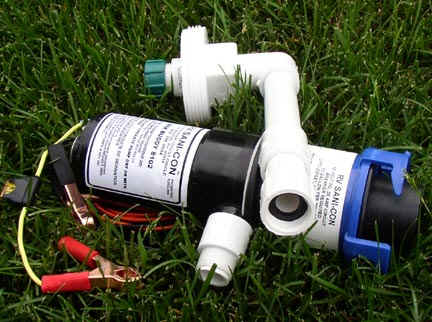 OR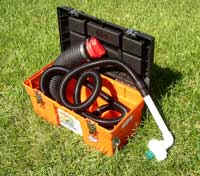 ---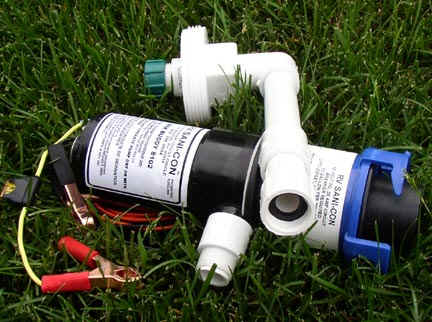 This Portable RV

Waste Pump is for dumping your holding tanks more easily, quickly, and most importantly, cleanly. It's a pump that quickly attaches directly to the bayonet fitting on your RV Dump Valve, allowing you to dump your Black Water + Gray Water Tanks through a garden hose then simply coil garden hose and store pump.

12 volt DC, fused, lifts up to 20 feet - NOT only 5 to 10 feet like some.

Pump up to 300 feet - NOT just 50 feet to 200 feet like some.

Key Points:
Inlet cone reduces possible clogging of pump - NOT available on other pumps.

Heavy Duty pump makes 300ft pumping possible - Verses 50 to 200ft.

Keeps the user contact with the waste at a minimum.

Eliminates the need for 3" hose and storage can be in the same bay as your dump valves.

Great for Boondockers.

Now you can dump at home - Just run a hose - NO expensive home plumbing modifications
---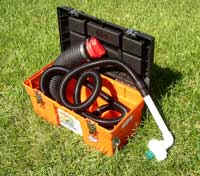 This pump is pre-assembled, wired, and mounted in the box. A 3 inch adapter and hose to hook to the RV and a 1" discharge hose 12 feet long with nozzle and drip cap is furnished. The nozzle end can be hooked to a ¾ inch water hose (water hose not furnished). The pump will discharge up to 350 feet away and uphill to 20 feet above the pump. Now you can empty the tanks any time you need to. You can rinse the black tank with gray water and store gray in the black tank when you are dry camping.
Empty the tanks at home or when visiting family or friends without having to move your travel trailer or 5th wheel.