Portable RV Waste Pump
"Great for Boondockers"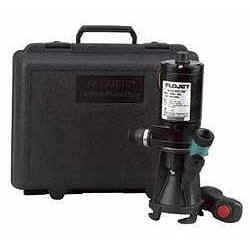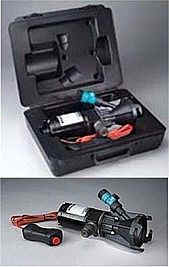 A Clean, Sanitary Way to Empty Your Holding Tanks!
Empty the tanks at home or when visiting family or friends without having to move your travel trailer or 5th wheel.
Portable RV Waste Water Pump
The ideal solution for emptying holding tanks on recreational vehicles and avoiding dump stations. The macerator section grinds waste down to a particle size of 1/8" maximum so it can easily be pumped through a garden hose (5/8" minimum). The pump section is self-priming, permitting the unit to be mounted above the tank in a convenient location.
Empties most recirculating toilets in less than 2 minutes; empties a typical 30-gallon holding tank in less than 3minutes.
Will macerate and pump all waste and tissue normally found in recreational vehicle waste systems.
IT WILL NOT HANDLE HARD SOLID OBJECTS, SANITARY NAPKINS OR RAGS.

Features:
• Connects directly to the RV waste outlet
• Eliminates 3" (75 mm) sewer hose
• Garden hose discharge port
• Fresh water rinse capabilities
• Remote handheld on/off switch with 6' (1.8 m) wire harness
• Ability to dump longer distances
• Ability to drain holding tanks at home
• Easy clean up and storage
• Rugged portable storage case
• USCG and CSA listed
• Run dry protection

Specifications:
Pump - Self-Priming Flexible Impeller with Stainless Steel Wearplate
Impeller - Jabsco Nitrile Compound
Motor - 12 Vdc Permanent Magnet Type, Fully Enclosed, with Stainless Steel Shaft
Macerator - Stainless Steel Cutter reduces particle size to 1/8" (28 mm) maximum
Seal - Lip Type
Port(s) - Inlet – 3" (75 mm) RV Connector Outlet – Garden Hose – 5/8" minimum
Weight - 6 lb (2.8 kg)

Hose size Recommended Hose Length
5/8 hose 25 ft recommended
3/4 hose 50 ft recommended
---