Tire Pressure Monitoring Systems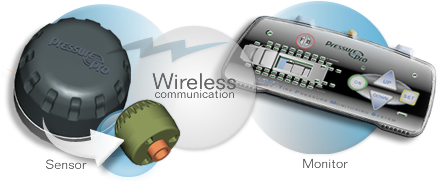 Note: Each Tire's Pressure is Checked 12,343 Times Per Day !!
Some Uses :
Recreational Vehicles - MotorHomes w/ Towed Vehicle - Tractor Trailer Truck / Tanker - Medium Duty Truck
Charter Bus / Commercial Bus / School Bus - Emergency Vehicle - Horse Trailer - Boat Trailer
Installation is easy!
Simply plug in the dash display,
twist on the valve stem sensor caps and in 20 minutes or less
you are secure and ready to enjoy your journey.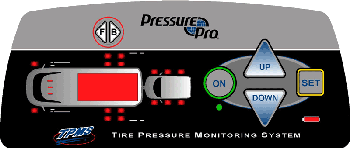 ( Monitor for (RV type) Primary and Towed Vehicle )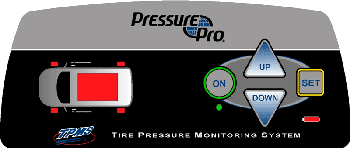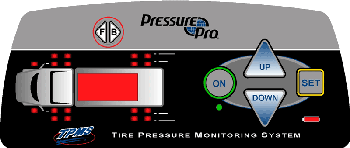 (
Tire Pressure Monitoring Systems
No tools are necessary to install the system is simple to operate. A wireless, tire air pressure sensor (cap) simply replace existing valve caps with the Sensors. Place the Monitor in a convenient location near the driver, powered by plugging into the lighter accessory in the vehicle and displays current tire pressure as well as alerting to low tire pressures with both a visual and audible warning. You continually monitor the precise air pressure in every tire on your RV. You can see exactly which tire is losing air, and how fast air is lost, allowing time to stop to refill or repair before it's too late, and reduces the risk of permanent tire or wheel damage. When tire pressure is low, the monitor identifies the low tire position with a flashing light on that location and an audible alarm to alert to low pressure.


Actively prevent low tire pressure from turning your trip from an enjoyable journey into a nightmare. Low tire pressure is the leading cause of excessive heat build-up — and that's the single greatest cause of tire problems. With the Tire Pressure Monitoring System, you'll know about low tire pressure before a serious problem occurs. Avert costly blowouts due to excessive heat build up. Protect your multi-ton vehicle and home from suddenly becoming hard to handle at 65mph.

This unit is all you need to ensure safer highway travel. It will eliminate problems that are caused by not being aware of low tire pressure.
Tire Pressure Monitors Really Work
Your set of precision pressure Sensors constantly reads the tire pressure and can detect even small changes in the pressure of your Vehicle's tires. Wireless signals are transmitted to a driver-friendly monitor panel showing the precise tire pressure of each tire. The Tire Pressure Monitoring System can monitor all types of vehicles - up to 34 wheel positions and reads tire pressures of 5 to 150 psi. When your tire pressure monitoring system discovers a low-pressure condition, you receive both a visual and audible alert.
With our Monitor, your tire pressures are constantly monitored, while moving or parked. The tire pressure monitoring Sensors "read" up to 100 ft. from the Monitor and the tire pressure Sensors have an expected battery life that is approximately 3 years (miles driven and system use affects battery life). Installation of the Sensors does not affect your tire balance and routine tire rotations are effortless. The Sensors are cleverly pre-coded with a specific ID code to protect your investment. There are 24 million codes available for security and accuracy.
Put Away Your Manual Tire Pressure Gauge
FORGET GETTING YOUR HANDS DIRTY
The job was messy with hands and fingers getting covered with grease and dirt from the valve caps and tires. The job was also frustrating with twisting off a valve cap in driving rain or 100 degree heat, trying to read those small numbers and tiny incremental lines between them. All of this made traditional tire pressure monitoring with a tire gauge inaccurate and time-consuming.
Now, there's no problem checking your tire pressure outside in any type of undesirable weather or conditions. The Tire Pressure Monitoring System displays the tire pressure of each tire directly to you, right from the comfort of the drivers seat. Proper tire pressure leads to several benefits. With proper tire inflation, the tread life of your tires increases and improves your fuel efficiency.
Save Money. Travel Safely
In a Tire Industry Safety Council survey, more than 50% of tires were found to be under inflated. It's time you take control of the safe operation of your Vehicle! Tires running as little as 10% under inflated, lose up to 12% of their tread life. At 20% low, they lose nearly 23% of tread life.
Properly inflated tires use less fuel, wear longer, provide greater stability / handling and bring savings. With tires representing the only thing between your vehicle and the ground – at 60 mph – you want to know what your tires are doing to keep the investment in your vehicle safe. Properly inflated tires wear longer, saving hundreds of dollars to replace your tires because of premature wear due to low tire pressures.
PressurePro is an investment in your vehicle and in your own safety and the safety of those with you.
PressurePro gives you confidence in your tires performance and peace of mind while driving.
Our Pricing:
Monitors + Accessories - $190.00 Sensors - $50.00 each External Antenna - $40.00
(See More RV Pricing Below)
Systems Pricing
Part

System Configuration

Price

RV-7004

4 wheel RV/Car Tire Pressure Monitoring System.
4 Sensors, Receiver, Accessory Power cord, and 3-1/2"whip antenna
$390

RV-7006

6 wheel RV/Car Tire Pressure Monitoring System.
6 Sensors, Receiver, Accessory Power cord, and 3-1/2" whip antenna
$490

RV-7008

8 wheel RV/Car Tire Pressure Monitoring System.
8 Sensors, Receiver, Accessory Power cord, and 3-1/2" whip antenna
$590

RV-7010

10 wheel RV/Car Tire Pressure Monitoring System.
10 Sensors, Receiver, Accessory Power cord, and 3-1/2" whip antenna
$690

RV-7012

12 wheel RV/Car Tire Pressure Monitoring System
12 Sensors, Receiver, Accessory Power cord, and 3-1/2" whip antenna
$790

RV-7014

14 wheel RV/Car Tire Pressure Monitoring System.
14 Sensors, Receiver, Accessory Power cord, and 3-1/2" whip antenna
$890

RV-7016

16 wheel RV/Car Tire Pressure Monitoring System
16 Sensors, Receiver, Accessory Power cord, and 3-1/2" whip antenna
$990

RV-COAX

External Antenna COAX Cable Assembly
Includes Duck Antenna, 35' COAX cable, SMA Male Plug w/right angle, TNC Female Bulkhead Jack Connector
$40