Suzuki Parts
(OEM, Used and AfterMarket)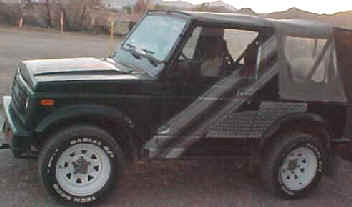 Specializing in ALL Suzuki Vehicles:
Samurai, Sierra, Sidekick, Vitara, Grand Vitara, Grand Vitara XL-7, Esteem, Swift, LJ80, SJ410, SJ413
After meeting the Owner, we now deal with the largest Suzuki Dismantler in the world. (In business since 1986)
Additionally, because of their similarity to the above Suzuki vehicles, we also have several Geo and Chevy Trackers and Metro vehicles, for parts, and accessories.
---
Give us your:
Name and Contact Info.
Vehicle Information
and
List all Parts requested.
We e-mail you with the Parts + Shipping Costs for your approval.
Collect Your Payment (Visa, Master Card, Discover or Pay-Pal)
and Ship Your Parts
Note: Most Parts Ship Priority Mail or UPS
Arrangements for Large Parts Can be Made
Copy the Form Below (between lines) and Paste into This E-Mail ---> E-Mail US Your Parts Quote Request
After getting your Quote - Copy the Quote and Paste into this E-Mail ---> E-Mail US Send Us Your Order
---
---
Suzuki Parts Order Form
Name -
Address -
Phone -
E-Mail -
Vehicle
Make - Model -
Year - Color -
Engine - Transmission -
Parts Needed
1 -
2 -
3 -
4 -
5 -
6 -
7 -
8 -
9 -
10 -
---
---