STEERING STABILIZERS
Money Back Guaranteed ! & Lifetime Warranty
Built by a family owner company in business for over 29 years producing the Best Steering Stabilizers on the market !
---
This Steering Stabilizer is an invaluable tool for your motor home, 18 wheeler, and midsize 5th-wheel tow vehicle. Installed on the front end of these types of vehicles, it helps to ensure amazing control. With Steer Safe, you control the vehicle; it doesn't control you.

It protects you against front tire blowouts, potholes, soft shoulders, high winds, wandering, accidental encounters with curbs, and highway medians. It also helps reduce driver fatigue. It is the best safety insurance for your vehicle, driver, and passengers.
Installed on the vehicle's front steering arms and clamps on to the front axle. No welding is required. It's simply bolted on. It's patented oscillatable fulcrum bar makes it the only true steering stabilizer on the market. It provides up to 400 pounds of preset tension on each front wheel working against any outside forces, keeping the front wheels pointed straight, even in a blowout situation.
Unlike hydraulic shock absorber stabilizers that hook onto a vehicle's tie rod, It offers protection from the front wheels to the steering gear box. No extra steering effort is required lessening driver fatigue. Maintenance is not required because it's equipped with Delrin bearings which never require servicing.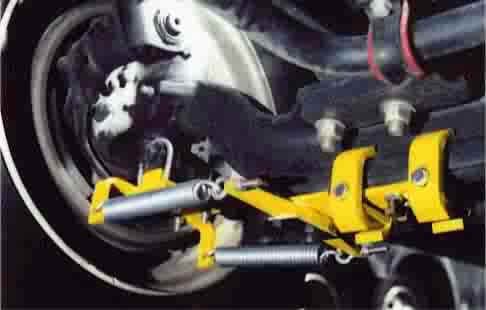 Here is a See it in Action (Video)
Here is Just One of Many Models (to fit your vehicle)
---
Fit Information Below
CHEVROLET & GMC

ALL P-30 SERIES CHASSIS

NC-800-97UD

G-30 VAN & MINI (UP TO 97)

C10-G20

NC-800-H FOR P-30 SERIES WITH HELWIG

NC-800-H

CHEVROLET (P30012 WITH STRAIGHT AXLE) P-12

P-12

ROADTREK 170, 190, 200 CHEVY 3500, 2000-2003

NC-3500

DODGE

MOTORHOMES ON RM-300 CHASSIS (DISC BRAKES FRONT)

RM-300

MOTORHOMES ON RM-350, RM-400, OR RM-500 1973-1978 (BRAKE PODS IN FRONT)

RM-500X

MOTORHOMES ON M40, OR M50 1979 & NEWER (BRAKE PODS IN REAR

RM500-79X

MOTORHOMES ON RM-600 & ROADMASTER RAIL BEFORE 1984*

RM-600

MINI-MOTORHOMES ON MB-300, MB-400, F40, F44

MB300-F40

VANS ON 3500 CHASSIS 1991-1998

D-3500

*ROADMASTER RAIL AFTER FEBRUARY, 1984 THRU 1989

IHC-800

ROADTREK 170, 190, 200 DODGE 3500, 1999 THRU 2003

ND-3500

FORD

FORD F-SUPER DUTY CLASS A CHASSIS WITH STRAIGHT AXLE 9f-53)

F-SUPER

MINI-MOTORHOMES VANS (SERIES E-300 TO E-350) 1976 TO 1985

E-350-80

MINI & CLASS A CHASSIS WITH TWIN I-BEAM (1986 THRU 1991 WITH KINGPINS

E-350-86

MINI & CLASS A CHASSIS WITH TWIN I-BEAN (1992 & NEWER) BALL JOINTS

E-350-92

FORD F-550 2000 & NEWER

F-550

OSHKOSH-FREIGHTLINER

XC-18, 19, 20 ROCKWELL FC-921=7,000 LB.

IHC-800

XC-21, 23 ALLSTEER VC-26, VC-29 ROCKWELL FD-961, FD-965 THRU 2001

UR-900-MAS

VC-24, 25 WESTPORT OR SPICER 9000 LB

UR-900-MS

FREIGHTLINER FL-50, FL-60 THRU 2001

UR-900-MAS

FREIGHTLINER FL-50, FL-60, 2002 AND NEWER

UR-900-MAXS

MERITOR FD-961, FD-965, 2002 AND NEWER

UR-900-MAXS

XC W/ DAIMLER CHRYSLER I-BEAM

DC-04

SPARTAN

MOUNTAINMASTER WITH EATON E-12001 FRONT AXLE

E-12001

MOUNTAINMASTER 12,000 LB. FRONT AXLE ROCKWELL 12,000 & UP

UR-900-MA

GRANNING INDEPENDENT FRONT SUSPENSION MODELS 1200, 1370, 1460

IFS-900-SG

ROADMASTER DANA SPICER E-10001 THRU E-14601

E-12001

WORKHORSE

P-SERIES INDEPENDENT FRONT SUSPENSION

NC-800-97UD

W-SERIES I-BEAM AXLE

IHC-800

ATTENTION: Unit will fit larger axles such as Spartan, Magnum, Country Coach, Gillig, Monaco, Bluebird, Newell and crown coaches. Please email us the year, axle, make & axle number.

Stabalizers are guarantee for the life of the vehicle under one ownership, excluding labor and shipping
To Order: Just Hit the [Back] Button and Email or Call Us with your Request.
Visit Discount RV Marine (Page Host)