Motorcycle Maintenance +Transport Stand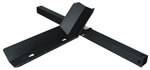 At last, a safe, simple, secure way to haul your motorcycle in a pickup, van or a trailer. Whether you own a Harley or any other brand of motorcycle, you need a this Stand to haul your bike.

Keyhole shaped slots in the bottom of the chock portion of the Stand make installing or removing it a 30 second task once the hardware has been installed in the floor of the transporting vehicle. Simply attach the Stand to the floor, roll your bike into place and attach tie downs (not included) to the cross bar and to the motorcycle. Then haul your motorcycle to where the fun is! Eliminates the need for "D" rings or tie down points anywhere else.

M

akes a great work tool also. Use it to hold your bike upright and stable for simple maintenance or major repairs. Attach either wheel of your bike to the Stand and the end of the motorcycle not attached can be raised as needed by jacking or any other safe means of lifting.

PREVENT THEFT! Once attached to your pickup, van, or garage floor you can easily lock your motorcycle to it by running a chain or cable through the loop welded to the front of the "shoe" and the wheel of the motorcycle.

O

ften imitated, but never duplicated.
No one else offers you a lifetime warranty on their motorcycle stand.
Fits tires up to 6 1/2" wide
Powder Coated (Black only)
Heavy Duty 11 Gauge Steel
Lifetime Guarantee
Works with any Motorcycle
Tubular cross bar is 2"x2"x35"
Shoe is 22" long and 6 1/2" wide
UPS Shipping on all orders
Extensions available at extra cost
Slik Stand
$179.95
Model S2 (fits tire size up to 150)
Model S3 (fits tire size over 150)
Shipping $15
Chock Only w/o Frame (2 widths) $79.95 ALSO Available for ATVs and Golf Carts - Widths of 4" thru 10" @ $115 to $145 pair

Extensions are offered to extend the width of the crossbar for motorcycles when you can't attach tie downs to the forks. Simply attach them to the ends of the handle bars and to the extensions. $54.95 pr.
An optional "Rear Shoe" is offered to hold the rear of the motorcycle in place. Simply attach tie downs to the slotted holes in the sides of the shoe and to the motorcycle. Two bolts are needed to secure the "Rear Shoe" to the floor. Available lengths of 11 3/4" or 17 3/4" $59.95
The "Slik Nut" was developed for mounting the Stands and Chocks in pickups, vans, trucks and trailers with metal floors for quick and easy installation and removal. They can also be used as a tie down point for any kind of cargo. Available in 1/4" or 3/8" $12.95 PR
Transport + Maintenance Stands Motorcycles, ATVs, etc.

Haul Your Motorcycle
Five of us hauled our bikes to Arizona Bike Week 2000 in this 18' enclosed trailer over 1,500 miles of rough highway and Interstate.
They didn't budge!!!
Haul Your Motorcycle on a Trailer or in a Pickup.
---
Working on Your Motorcycle
Use in the garage, the driveway, or anywhere else that you want to stabilize your motorcycle.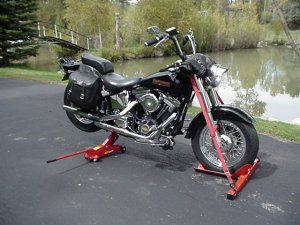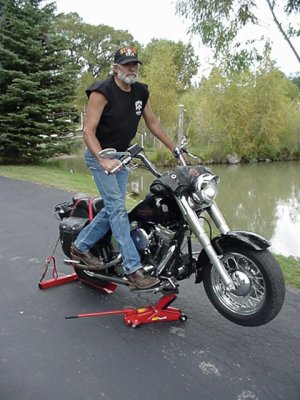 ---
Secure Your Bike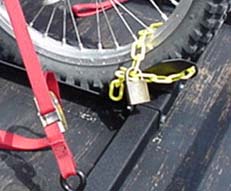 Prevent theft!!!
Once attached to your pickup, van, trailer,
or garage floor, you can easily lock your
motorcycle to it by running a chain or
cable through the loop welded on the front
of the shoe and the wheel of the motorcycle