The self contained, no mess,
no fuss, RV sewer system

Change the way you camp with the Dandy Dumper. Unlike other RV sewer
hoses the Dandy Dumper is a self contained telescopic sewer system with
adjustable legs to achieve the correct slope for proper drainage. Designed for
durability, the Dandy Dumper's sewer hose remains protected inside it's
hard outer shell. Complete with a quick connector for easy hook up, you can
be exploring or relaxing within minutes. The Dandy Dumper can be used
with Motorhomes, 5th-Wheelers, Trailers and Campers.

Dumping waste water is no longer a hassle, with no more half empty hoses
to handle and no more aggravation!
The Dandy Dumper comes with:
10' sewer hose
10 legs to aid with gravitational feed and leveling
2 rubber end-caps for easy storage
Rack for storing legs
Please note that elbow attachment is not included
---
How to Connect your Dandy Dumper
STEP 1
With Dandy Dumper on end,
remove legs from rack and insert
legs into eyelets.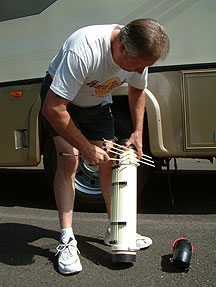 STEP 2
Position the Dandy Dumper on
its legs (single pair of legs next to
RV). Remove endcap and attach
the internal hose to your RV.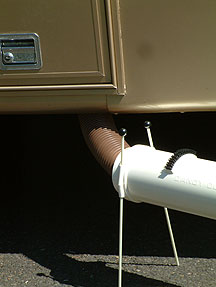 STEP 3
Loosen 3 black knobs, extend the Dandy Dumper to the desired length
and tighten knobs. Attach the internal hose to an appropriate elbow, and
place into sewer inlet. Adjust leg height as needed for gravitational feed.