RV Folding Bikes
Our exciting new lightweight motorized 20 inch "Freedom Bikes" fold up in seconds to stow away in small spaces. These fuel efficient beauties are now available in gleaming red or yellow baked on enamels and are highly resistant to corrosion making them suitable for marine environments.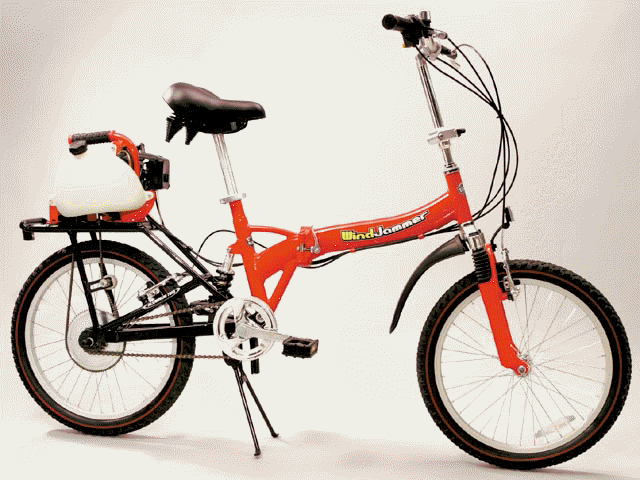 LIGHT WEIGHT and FAST

The Motorized Freedom Bikes frame and components are 7005, aircraft-quality aluminum and salt water resistant. These amazingly well built Motorized Bicycles weight in at a mere 44 lbs. with a unheard of weight capacity of 300 lbs and have a convenient lifting handle directly above the engine. Getting the bike in and out of tight storage spaces is a breeze and a functional zip-up storage bag is available for an extra $50. This easy to operate bike has a high tech 33cc 2 cycle motor, propelling you to speeds in excess of 30 mph. It will get up to a money saving 200 mpg and has about a 100 mile operating range.
There are no special licenses required for these bikes in most states!
SPECIFICATIONS:
• High performance 33cc, 1.8 hp two-stroke - oil/gas mix 25:1. • 1/2 gallon fuel capacity. • Wheel rims have double-wall aluminum construction. • Motor's dry weight 10.1 lbs. (4.5 kg). • Heavy duty, four bolt centrifugal clutch assembly. • Precision-engineered, balanced, components insure maximum engine reliability, extended longevity and low vibration. • Low-noise muffler. • High-luster, oven-baked paint finish. This trend setting transportation marvel gets up to 200 miles to the gallon of regular gas. The powerful and quiet 33 CC transistorized two cycle engine cranks out almost 2 horse power and can maintain a 30mph pace all day long. This well built bike package is surprisingly quick off the line and can be pedaled like an ordinary bike for a little extra exercise. The average bike rider puts out less than 1/2 horse even in a sprint so hilly areas are handled like a breeze.

Easy Starts: The Motorized "Freedom Bikes" have a prime button and choke lever combined with a large pull start grip, making the start up of your Motorized Bike effortless time after time. Smooth and safe riding, the Motorized "Freedom Bike" is enjoyable and comfortable to ride due to its full front and adjustable rear suspensions and oversized sprung seat. Stopping this swift little Motorized Bicycle is accomplished by the amazingly powerful V-Brakes on both the front and rear wheels.

Easy to Operate: The Motorized "Freedom Bikes" may also be pedaled like a regular bike. The patented, chain drive system along with the automatic transmission allows the rider to stop and go without engaging or disengaging the motor. They are very quiet but if you need to just pedal for some exercise, simply switch off the motor and ride it like a standard one speed bike without any drag as it is continuously freewheeling.
30 Day Manufacturer Defects Warranty !! Money Back Satisfaction Guarantee !!
---
Save $100 When Ordering a Pair.
Shipped UPS Ground Anywhere in the USA!
---