Before Life on the Road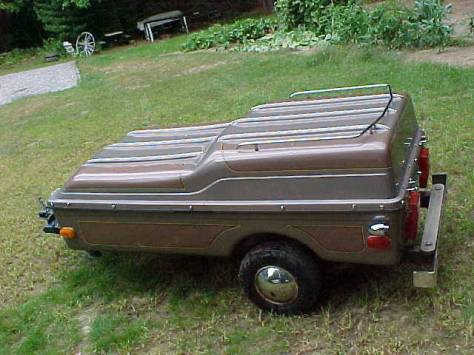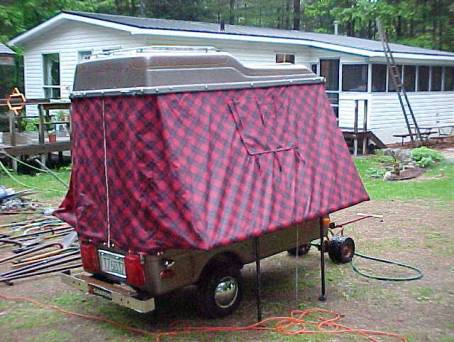 Cycle Kamp "Instant Motel" Motorcycle Tent Trailer Behind a Gold Wing Aspencade (Overall Rig Length 16 1/2 Ft.)
---
Nov 2001 Started Life on the Road !
Our First Rig - MotorHome + Trailer Nov 1998 - Dec 2004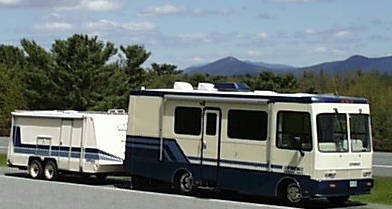 1996 Safari TREK Diesel (200HP) and 20ft Cargo Trailer (Overall Rig Length 51 Ft.)
---
Our First ToterHome + Trailer 2003 - 2004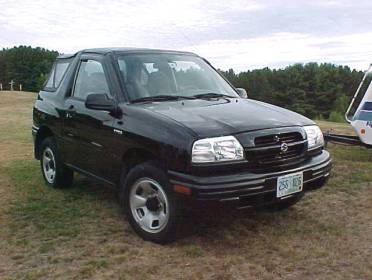 ToterHome was built in 2000 It has Sink, Toilet, Tub/Shower, Refrigerator,

Propane Heat, and Hot Water, 13" TV, 1500 Watt inverter, Etc. International Truck with a DT466 Engine

-(200HP) , 5 Speed Trans. w/ 2 Speed Rearend. Trailer is a 2002 42 ½ Ft with Insulated Front Living Space, Storage and Garage. (Overall Rig Length 70 Ft.)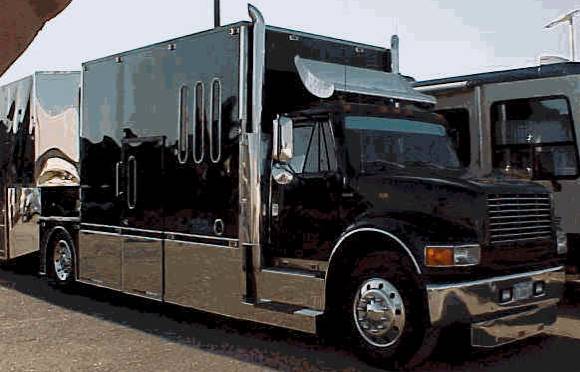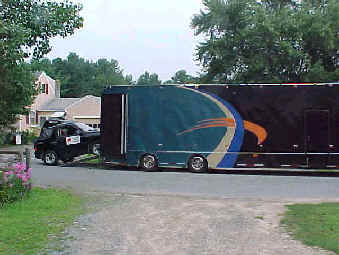 ---
Our Second ToterHome + Trailer 2005 - 2009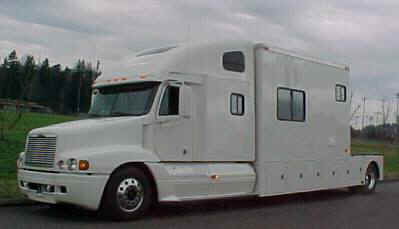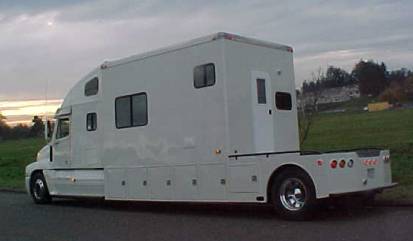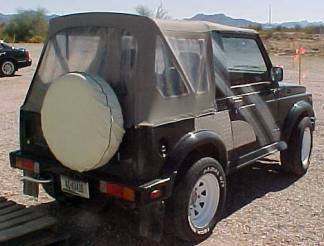 ToterHome Custom Built in 2005 with A Freightliner "Century" Truck - 13 ft. High and Stretched to 8 1/2 ft Wide + 38 ft. Long with a 60 Series Detroit Diesel Engine

- (500HP) , 10 Speed Transmission with Auto-Shift, a Walk Thru Sleeper + Full RV Built on Rear, Setup For Gooseneck, 5th Wheel + Receiver Hitches. Our Worse Fuel Mileage in The "Mountains" Has Been 8.46 MPG We Average 9.2 to 11.1 MPG w/o Trailer 13.86 and 14.16 MPG

Trailer is a 2005 12 1/2 ft. High 8 1/2 ft Wide + 37 ft. Long Custom Built Trailer with Full Walk On Roof, Rear Ramp Door for Car Loading and Double Side Doors for Motorcycle Loading, etc, 5ft Side Door Over Wheels, Nose Door for access from ToterHome and an "E-Track" Second Floor Throughout Most of it.

(Overall Rig Length 72 Ft. 5 1/2 in.)
---
Toter + Trailer 2009 -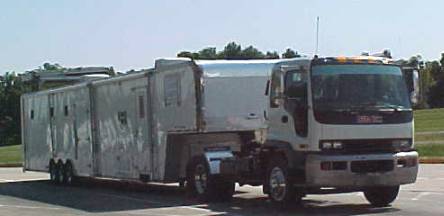 Toter is a 2001 GMC T7500, 3126 Cat engine, 9 speed, Air Brakes, 22.5 inch Tires. Trailer is a 2004 11 1/2 ft. High 8 1/2 ft Wide + 50 ft. Long w/20ft RV section w/slideout and 30ft Garage plus 10,000W Diesel Generator and Observation Deck. (Overall Rig Length 65 Ft.)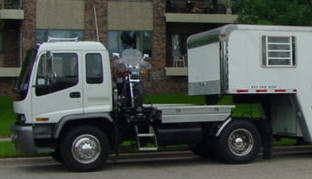 We added 3 aluminum tool boxes and a Motorcycle lift to the rear of the toter.
---
I Decided My Honey really needed more closet space so we sold the toter and got another one (Closet Model) Then I made the sleeper into a full walkin closet for my Honey !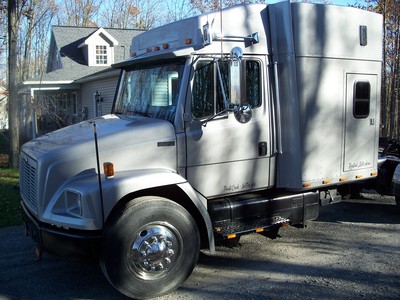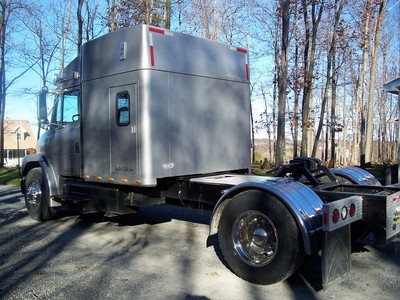 Toter is a 1996 Freightliner FL70 with 6 speed and 330 HP Cummins 8.3L (all mechanical) and can be turned up for more HP, Air Brakes, 22.5 inch Tires.
We will add the Motorcycle Lift and an aluminum tool box and change the hitch to a Gooseneck.
---
Please Visit Our "Discount" RV Marine WebSite Home Page