The Ultimate Loading Ramp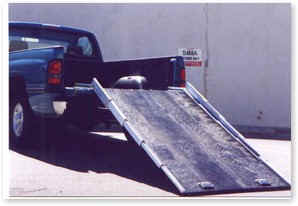 Watch it Work !!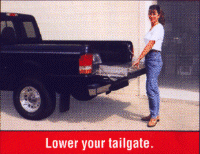 Watch it Work !!
IT'S EASY-

Now you can easily load heavy equipment like golf carts, tractors, motorcycles, snow mobiles or ATV's onto your truck.In fact, the ramp's 1,000 lb. (Sm.or Mid. size truck) and 1,500 lb. (Lg. truck) distributed weight capacities allow for the simple loading of nearly anything you can put in your truck.

SAFE-

The revolutionary Ramp System will help reduce back injuries and loading accidents. These sturdy ramps are constructed of high-strength aircraft quality aluminum, and powder-coated with an anti-slip surface.

PRACTICAL-

The Ramp attaches in just minutes on top of the inside of your existing tailgate and stores in the truck bed using only 4" of space. Our ramp eliminates the need for expensive trailers or lift gates.

VERSATILE-

The ramp installs on any size pickup for nearly unlimited loading use. It also allows for pickup to dock loading and when needed, the ramp quickly converts to a sturdy work table or picnic table
---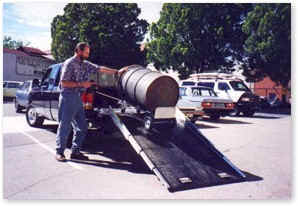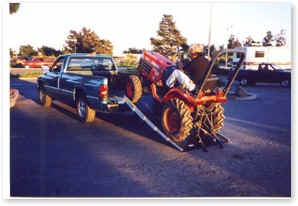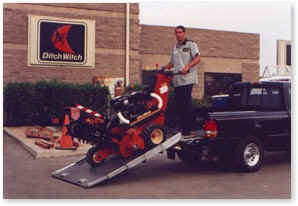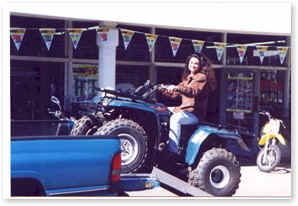 ---
Full Size Ramp
Dimensions Length 82" x Width 45"
Load Capacity 1,500 lbs. Distributed
Weight 90 lbs.
Material High strength aircraft quality alloy aluminum Silicon carbide anti-slip surface, baked on powder coat
Limited Warranty 1 year

Mid Size Ramp
Dimensions Length 69" x Width 42 1/2"
Load Capacity 1,200 lbs. Distributed
Weight 84 lbs.

Material High strength aircraft quality alloy aluminum Silicon carbide anti-slip surface, baked on powder coat
Limited Warranty 1 year