G P S Units
Turn your laptop PC into a GPS Navigator / ALSO Handheld (below)
"Much more FULLY FEATURED than Microsoft Streets & Trips." PC Magazine
DeLorme has engineered the software from the ground up to provide many unique in-vehicle capabilities not found in comparably priced systems – or in systems costing over $1,000, for that matter.
Plug-and-play laptop GPS utilizes your existing large screen
Completely updated map database, now with Canadian street-level maps
GPS voice commands, spoken directions, automatic back on track
Up-to-date Maps
» Voice Commands and Spoken Directions
» Useful Travel Information
» Suggested Uses:

› Explore America's back roads
› Create address-to-address routes among your business appointments
› Plan for emergency evacuations and avoid frustrating traffic backups
› Find last-minute lodging and food in unfamiliar places
Turn Your Laptop PC Into a Powerful GPS Tracking Device for only $99.95!

Includes Amazing Spoken Directions and Voice-Command Technologies
Never Get Lost Again
When was the last time you wasted valuable travel time because you took a wrong turn in an unfamiliar location? Now there's an affordable and reliable solution -- the Earthmate GPS LT-20 receiver. The Earthmate GPS LT-20 is a high-performance, easy-to-use link to the satellite navigation technology of the Global Positioning System (GPS). Accessing these satellites is available for no additional charge. Earthmate, connected to a USB laptop PC, shows your real-time position on detailed Street Atlas USA maps anywhere in the U.S., so you will always know where you are and where you need to go. Do even more with your laptop PC by adding the Earthmate GPS LT-20 -- Global Positioning System technology now available for everyone.
Getting Started is Easy
Plug the Earthmate GPS LT-20 into the USB port of your laptop PC. The low-power chipset draws power from your laptop, meaning no GPS batteries are needed. Install the Street Atlas software, choosing to load the entire second data disc onto your hard drive if you want. The software also includes over 4 million places of interest. Place the GPS as close to your front windshield as possible, ideally using the enclosed suction cup on the attached cable to hold the GPS against the glass. Click on the software GPS tab and you'll see your position updated in real time on the maps as you drive. There are many custom GPS options included within the GPS tab.
---
Real-time GPS tracking using the Earthmate GPS LT-20 and Street Atlas USA software with high-contrast map settings option turned on and large turn arrows showing the next turn and the turn after when tracking against a pre-planned route.
Earthmate GPS includes a built-in LED that transitions through the various satellite acquisition modes: red for searching, yellow for two satellites in view, and green for at least three satellites in view. Earthmate GPS is a 12-channel NMEA-compliant receiver.

Only $99.95 with Street Atlas USA Software Included!
Never get lost again with this easy and affordable GPS receiver that turns your laptop PC into a powerful GPS system. Included Street Atlas USA software provides many unique advantages for in-vehicle GPS usage, including address-to-address routing, spoken directions and voice commands, easy-to-read large direction and turn arrows, and high-contrast screen settings for optimum viewing under glare conditions.
---
REVIEWS
Turn Your Laptop PC into a Powerful GPS Navigator At $100, no vacation planner with a laptop should be without this gem."
- Chicago Tribune
"I have been using variations of DeLorme mapping software and its GPS device for about a decade all over the continent and it has more than repaid its cost in terms of frustration and time saved and, now that I think of it, gasoline wasted. Not only did the DeLorme system always get me to the right place, it often directed me to alternate routes when the primary path (usually an interstate) was jammed. This is also a gas saver since you get zero miles to the gallon when you're stuck motionless in traffic."

Alex Law - Windsor (Ontario) Star
"Much more FULLY FEATURED than Microsoft Streets & Trips." PC Magazine
DeLorme Street Atlas USA with Earthmate GPS Preferred by the Washington Post over Microsoft Streets and Trips with GPS
" DeLorme put some thought into making Street Atlas USA easy to use in motion. You can set the program to display one trip segment at a time, using large, high-contrast type and graphics. It can also call out each turn in a synthesized voice and responds to basic spoken commands, such as "next turn" or "be quiet." Which to choose? Once you're rolling, Street Atlas USA works better. Microsoft's directions come in the form of too-small text, coupled with detailed maps that will be hard for a co-pilot to read -- assuming he or she doesn't get carsick from the effort."
– Washington Post (Sept. 5, 2004)
---
What was NEW ! for 2007
The many new and enhanced features available with the 2007 CDs edition
The Earthmate GPS LT-20 is the latest generation of laptop GPS solutions utilizing chipsets from ST Micro and SiGe, as well as firmware and software provided by DeLorme.
Unlike previous laptop GPS solutions from DeLorme, this one is easily powered by the USB port of laptop PCs, drawing minimal power in the process. Signal acquisition and retention times are vastly improved compared to previous models.
Updated Maps
133,000 new U.S. streets and roads, triple-referenced for accuracy by DeLorme mapmakers
» 3.4 million updated U.S. and Canadian streets and roads
» Canadian street-level maps
» Still includes ability to add your own local routable roads — DeLorme exclusive
» Nearly 100 square miles of FREE aerial images via online download — a $40 value. Select the hybrid view to see DeLorme road vectors on top of the imagery
» NetLink: New easier way to communicate data revisions to DeLorme mapmaking staff with confirmation email when changes are made
Updated Places of Interest
4 million updated places of interest including hotels, restaurants, gas, and more
» DeLorme-verified exit service listings with phone numbers for travel major chains
» Canadian places of interest
Improved Usability
Comes on three CD-ROMs, which must be copied to your hard drive. (Note: DVD Edition available if you have a DVD drive and do not want to copy to your hard drive.)
» Customizable E-Z Nav toolbar across the top of the program interface (with right-click)
» Getting Started tutorial walks you through the major functions
DVD "PLUS" Edition
---
What's NEW ! for 2008
Now comes with all of Canada and Mexico
Available in DVD Only!!
Minimum System Requirements - Macintosh

Compatible with Intel-based Macintosh computers running Boot Camp for Windows XP
Minimum System Requirements - Palm OS

Palm OS® 3.5 or later, including Palm OS 5.0 or later devices with high-density displays (spoken prompts available on most 5.2 or later)
Application memory required: 700 KB (without spoken prompts) or 1.3 MB (with spoken prompts)
Map memory required: 2 MB
Minimum System Requirements - Windows CE

Windows Mobile 2003, Windows Mobile 5.0, and later with an ARM processor and a touch screen (including the portrait,landscape, and high-resolution configurations of Windows Mobile 2003 Second Edition and later)
Application memory required: 1.6 MB
Map memory required: 2 MB
Note: The Motorola Q and other SmartPhones without a touchscreen are not supported.

Minimum Hardware

Intel® Pentium 300 MHz or higher processor (600 MHZ recommended)
Available on a single DVD-ROM. 700MB of available hard-disk space required
DVD-ROM Drive
Minimum Internet Browser - Microsoft Internet Explorer 5.01 or later
---
---
ALSO SEE !
Click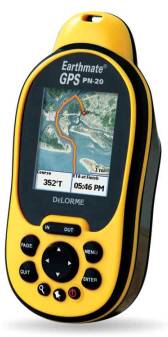 Here
All-in-One, Handheld - with Topographic, Highway, Back Roads and Aerial Imagery !!
---