All-in-One, Bright-Color-Screen Handheld.
The only handheld GPS that can display DeLorme maps and aerial imagery.
Superior Maps Make the Difference.
Users Can Access:
Recent DeLorme topographic maps

Full U.S. street, highway, and back road detail

Regional routable highway maps

Aerial imagery

Authentic U.S.G.S. 7.5 minute quad maps

A worldwide highway base map
Package includes the Earthmate GPS PN-20 receiver, Topo USA 6.0 mapping software, and an SD Card and reader to easily accommodate large imagery files.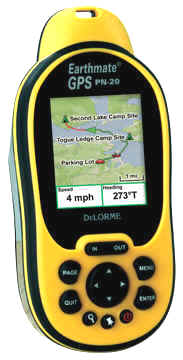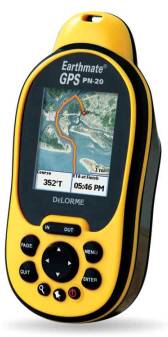 Everything you need is IN THE BOX!

Includes Topo USA

® 6.0 DVD Mapping Software with Full

U.S. Topographic and Street Maps, plus Aerial Imagery

➤

NMEA-compliant 12-channel receiver

➤

Fast acquisition times, outstanding signal retention

➤

High-resolution 2.2" TFT color screen for total clarity under a variety of lighting conditions

➤

75 MB of user-available internal flash memory

➤

SD card slot for up to 2 GB additional memory

➤

Holds up to 10 tracks (10,000 points per track), 1,000 user-defined waypoints, and 50 routes

➤

Aerial imagery available for free download

➤

Pre-loaded worldwide highway/major road base map

➤

Waterproof to IPX-7 standard

➤

Impact-resistant rubberized housing

➤

On-device road routing

➤

Runs on 2 AA batteries (included) or available lithium-ion rechargeable battery

➤

WAAS-enabled

➤

Device dimensions: 2.43" W x 5.25" H x 1.5" D

➤

Weight 5.12 oz.

The Earthmate® GPS PN-20 is a unique all-in-one GPS and mapping solution. Unlike other handheld GPS manufacturer's devices, no additional mapping software purchase or subscription is required. DeLorme Topo USA® 6.0 DVD software is included with the device, with beautifully detailed topographic and road maps of the entire U.S., available aerial imagery, and a broad range of GPS capabilities.

"The quality and detail of our Topo USA software is one thing that truly distinguishes the Earthmate GPS PN-20 from its competition," said DeLorme Director of Marketing Caleb Mason. "Another is the fact that it's included with the receiver. That's an enormous added value."

Topo USA 6.0 works with Microsoft Windows® Vista™ as well as Windows 2000 and XP.
---
Exclusive Features
What's truly innovative about the PN-20 is the inclusion of six map types on one color-screen GPS. You get a world base map, U.S. streets and topographic maps from Topo USA, regional routable maps, free downloads of scanned USGS quad maps, black-and-white aerial imagery, and colorized satellite imagery – all included in the base price, no extra map sources required."
The software's automatic trail routing is an exclusive DeLorme feature, as is the ability to download and save collected tracks as routable roads and trails within the software for future use. Any collected waypoints, tracks, symbols, comments, and other data can be easily downloaded and managed within the Topo USA software.
In addition to the Topo USA nationwide map coverage, the receiver comes pre-loaded with a worldwide highway/major thoroughfare reference base map. The Earthmate GPS PN-20's intelligent data layering feature allows users to easily toggle between maps and aerial imagery of the same location, ideal for hikers, campers, bikers, and others looking for multiple views of outdoor locations.
---