*** Our Goal is Safety in RVing ***
Note: ALL Products Have -
** Lifetime Warranty on Manufacturer Defects ! + 30 Day Unconditional Money Back Guarantee **
LADDER GUARD + STRONG BOX + RV STEP
---
EZ-STRONG BOX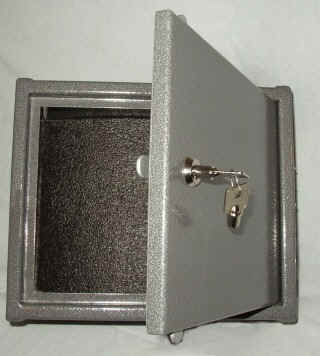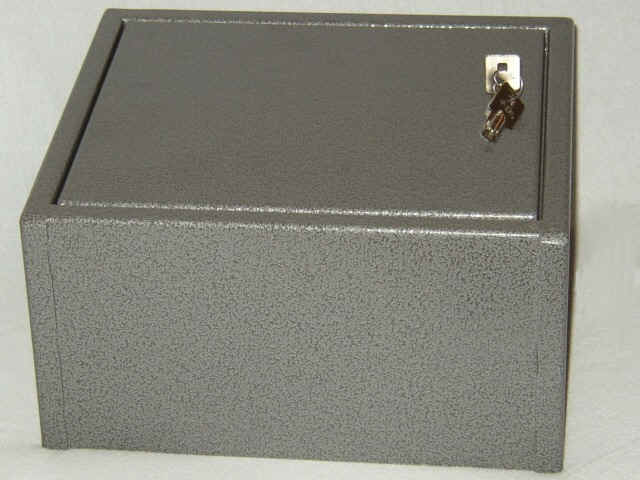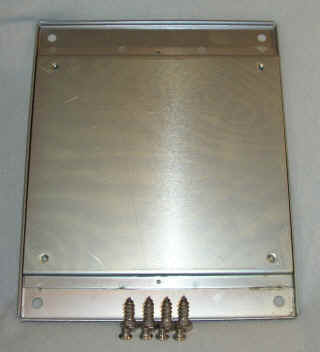 The mounting base ( shown on the right, above ) bolts permanently to the floor, wall or where ever. The EZ-Strong Box is recessed on the bottom and fits directly over the mounting base. Using the four countersink stainless steel screws, the box is secured to the mounting base from the inside.
The EZ-Strong Box is a secure place to lock valuables away!
Makes an ideal Gun Safe too !!!
Offers You Peace of Mind when your are away from your RV, Boat or Home !!!!
Mount it under the bed, in the closet, on the wall or anywhere else!
*Double wall construction with a Fire Resistant Barrier Inside !
*Made of heavy duty 12 gauge Welded Steel !
*It measures 9" wide x 11" long x 5" deep inside
*EZ to install utilizing a concealed mounting system !
* 6 Point Locking System with Pick Resistant Tubular Keys !
* Hardened Hinge Pins !
* Stainless Steel Mounting Hardware !
* Powder Painted for Long Lasting Service !
E-Mail US About This Product ! Return to Our Home Page
---
EZ-LADDER GUARD
Allows Access To Your Roof with the Turn Of a Key !!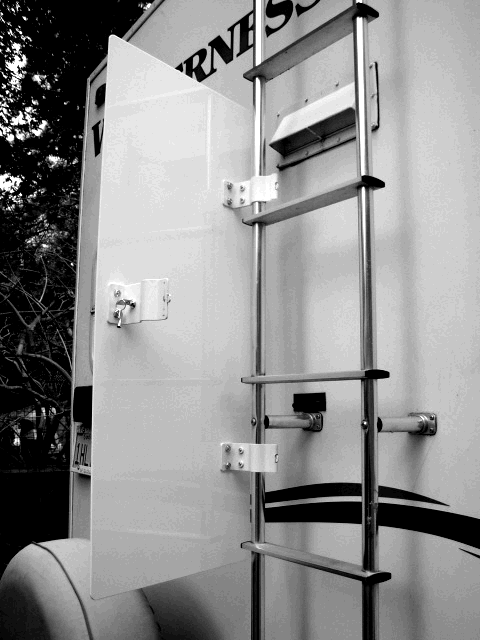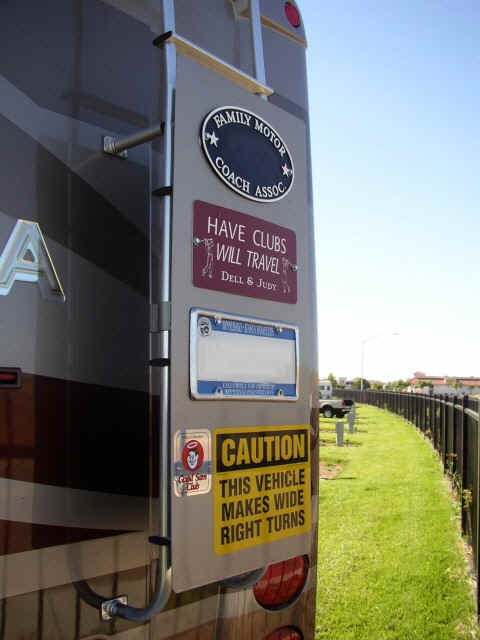 (The Three Clamps are Very EZ to Install !!) Customer on right had their EZ-Ladder Guard painted to match their RV !!
Protect the valuable items on your RV's roof !!!
and Prevent Unwanted Entry Through a Skylite or Vent !!!
also an excellent place to put your Club Placards !
The EZ-Ladder Guard is the perfect way to Protect all of those valuable components
that are up on your RV's roof. In todays RV world there are more and more fancy
and Very Expensive things that people are installing on the roofs of their RV's.
And the more things people put up there, the more things other people want to take !!
The EZ-Ladder Guard is
*EZ to install and Very EZ to use.
*EZ-Ladder Guard is 16" wide x 36" tall.
*Simply unlock and swing open for ladder access.
*Tubular key lock is Pick Resistant
*Made entirely of 1/8" thick Aluminum
*Light weight at 8 pounds
*Powder Painted for lasting durability
*All mounting hardware is Stainless Steel
E-Mail US About This Product ! Return to Our Home Page
---
EZ-RV STEP
This step is designed to attach to your current steps, to give you a Stable Extra Step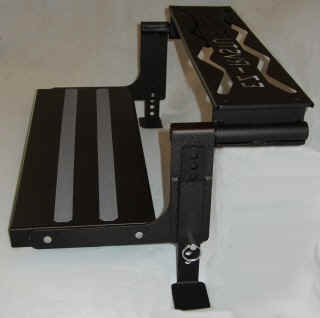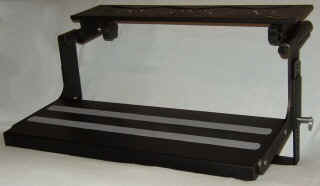 The EZ-STEP was designed to Replace those flimsy and unstable plastic
and homemade wooden steps that people tend to use when their rigs level out too high !!
These kind of steps have proven to be dangerous, especially to the older generation !!!
The EZ-STEP provides a Stable Extra Step when needed.
Using the two thumb knobs, attach the step to the base when you need it, remove and store it when you don't !!
The EZ-STEP is also very EZ to install ! Simply, permanently install the mounting bracket to the underside of your bottom step, using the stainless steel mounting hardware provided.
Then attach and detach the step when you want, using the 2 large thumb screws. Then drop the outriggers for a solid step for you and your family !!!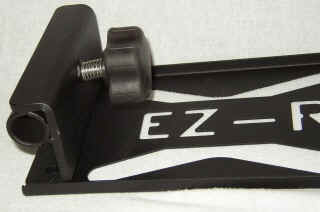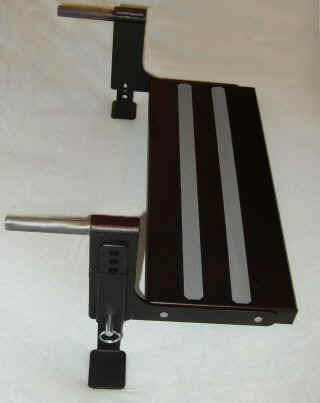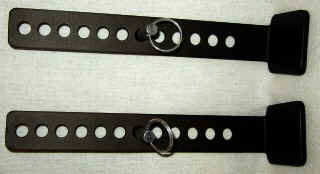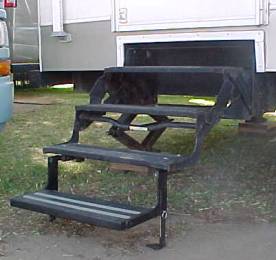 EZ-Step Installed
It's that simple !!!
EZ-STEP is made of 12ga Aluminum & 3/16" Steel
Measures a full 21" wide x 8" deep , with a standard 8" rise
Powder Painted for lasting durability
EZ to install and EZ to use
Light weight at 10 pounds
Holds up to 400 pounds
E-Mail US About This Product ! Return to Our Home Page
---
E-Mail us about each Product Above