C L A S S I F I E D
---
Toter/RV Hauler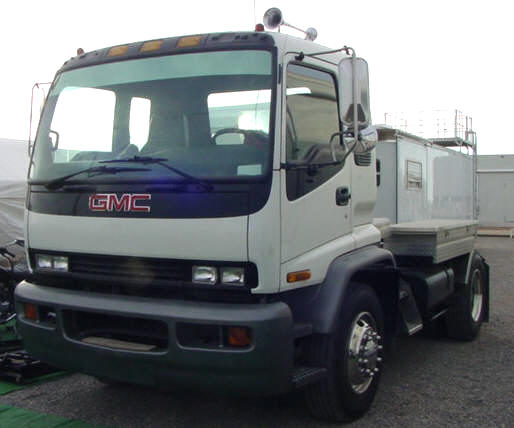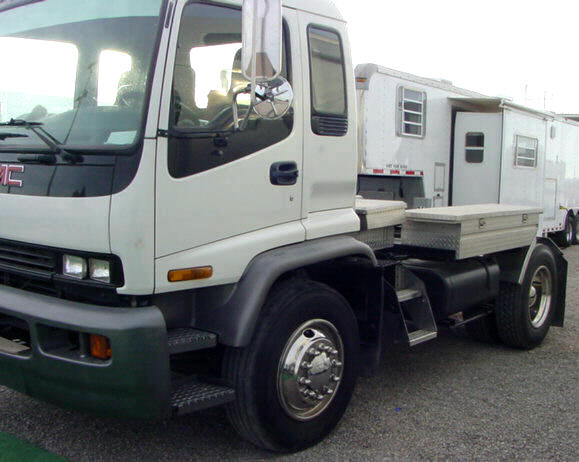 RV Toter - The Better way to Pull Your RV or Trailer
Medium Duty Hauler - GMC T7500 Cabover, Cat 3126 Diesel, 9 speed, Air Brakes, air ride suspension, air ride driver's seat. 22.5 inch Tires. Hitches - 5th Wheel, Gooseneck and Reciever, 3 Aluminum tool boxes.Hauling a trailer of over 22,000 lbs (2 to 3 times the weight of most RV trailers) and with the engine, trans and rear all with Amsoil Synthetics I was getting 9.2 to 11.46 MPG
(Stop killing that pickup truck, or buying a new pickup @ $30, to $52,) Asking Just $23,000 May accept something in partial trade ??
Call 303-358-8539 afternoons or email us.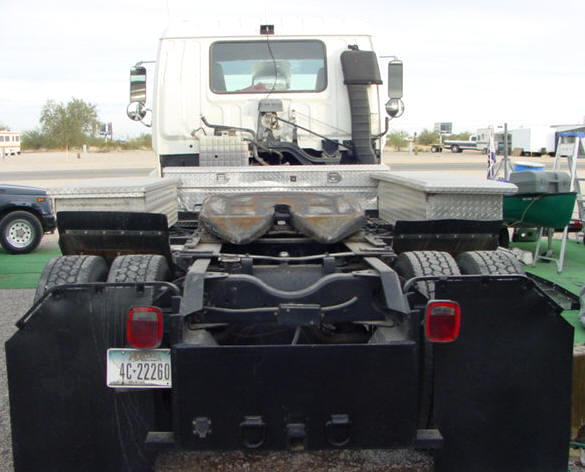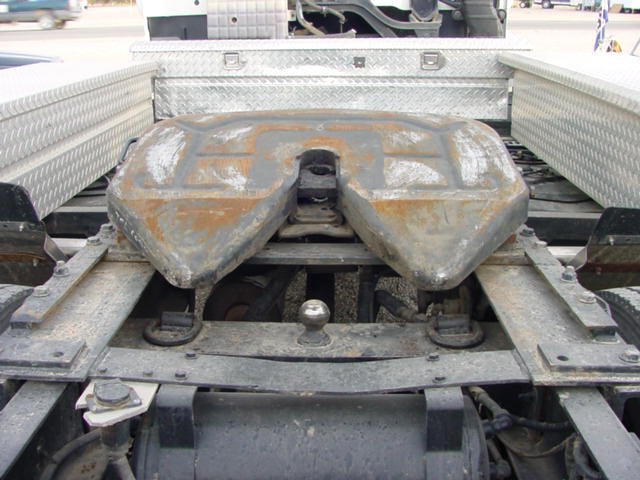 ---
Rocky Mountain Land and Cabin in Colorado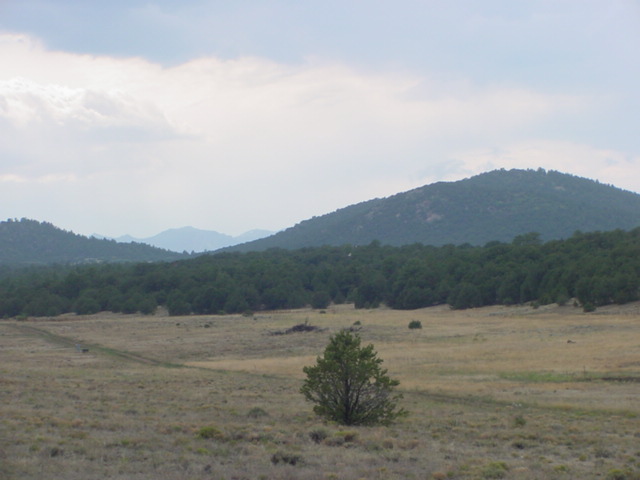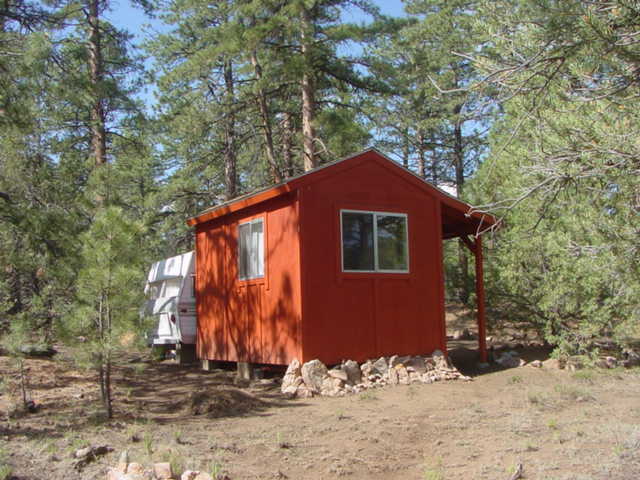 Click Here - > for ALL Details and Many Many Pictures etc.
---
Roof Deflector / Spoiler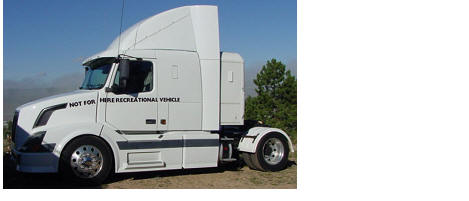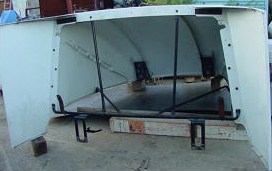 We are selling the Roof Deflector and Top Wings from our 2005 Volvo 642 - can be used on other trucks. Dimentions - Front to rear Brackets 70" Widest point 2 bottom 78" @ rear - Frame to Top 42" Wings are 24" wide. Located in Pueblo, Colorado Best Offer or Trades for ??
<![if !supportLineBreakNewLine]>
<![endif]> Send E-Mail to Owner<![if !supportLineBreakNewLine]><![endif]>
---
Trailer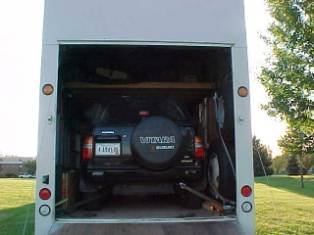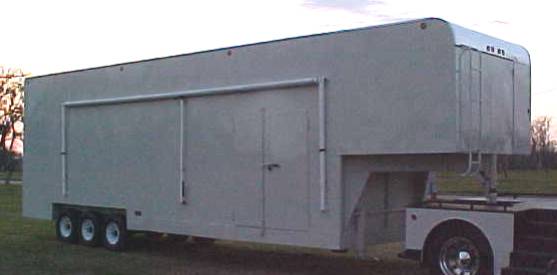 Trailer Details
8 1/2ft wide
12 1/2ft high
30ft lower deck - 37ft overall
No lift but can install any type
presently has E-Track 2nd Floor
Front Ladder to Roof
Triple 7,000lb Axles (Spring) (Air Ride Available)
Elec. Brakes
GooseNeck Hitch changable to 5th etc.
Rear Ramp Door
Large Side Door over left wheels
Double Side Doors right side for loading motorcycles etc.
Front Door for access from ToterHome
One Piece Roof
23ft Awning

Financial Difficulties Force Selling,
Before building, I got Quotes from numerous places across the country - for the Trailer of $51, $72, and $91,
Asking $22,000 B/O Trades for ?? (located in AZ)
---
ToterHome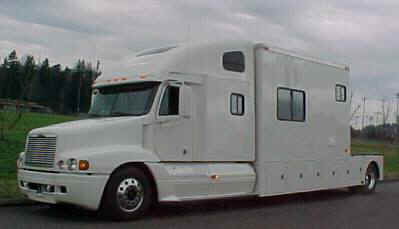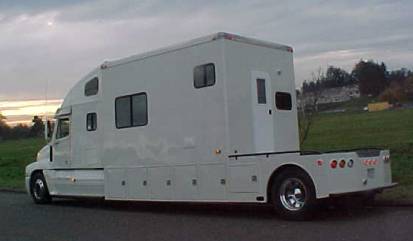 ToterHome Custom Built in 2005 with A Freightliner "Century" Truck - 13 ft. High and Stretched to 8 1/2 ft Wide + 38 ft. Long with a 60 Series Detroit Diesel Engine

- (500HP) , 10 Speed Auto-Shift Transmission with Walk Thru Sleeper + Full RV Built on Rear, air ride suspension, air ride cab and air ride driver's and passanger's seats. Setup For Gooseneck, 5th Wheel + Receiver Hitches. Our Worse Fuel Mileage in The "Mountains" Has Been 8.46 MPG We Average 9.2 to 11.1 MPG when hauling - Just Toterhome alone, we have gotten 13.86MPG + 14.16MPG in the rain

See Some Interior Pictures + More Details, Possible Trades Accepted etc.
---
Return to "Discount" RV Marine Home Page