---
Sports Chairs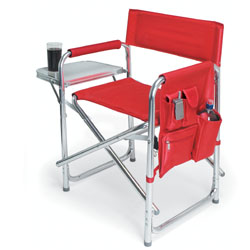 Available colors: Hunter Green - Navy Blue - Black - Red
Description:
The lightweight and durable folding aluminum Sports Chair is perfect for outdoor leisure. In addition to being lightweight, a removable shoulder strap makes this chair very easy to carry. The extra-wide seat (made from durable 600D polyester) and padded armrests were designed for optimum comfort. The large side flap has a velcro pocket for a cellular phone, a velcro pocket for sunglasses, a large zipper pocket to hold valuables, and an insulated wine/water bottle holder (protected by Thermo-Guard). A convenient side table folds out to hold food, drinks, etc. The sports chair makes an excellent gift!
Dimensions:
30.5" High 22" Wide
---
Stadium Seats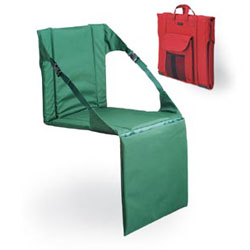 Available colors:
Red /with Black Trim - Green /with Black Trim - Navy /with Black Trim
Description:
Portable padded stadium seat with 2 large utility zipper pockets, adjustable shoulder strap, made of 600D polyester canvas. The Stadium Pack is ideal for anyone who enjoys sporting events, concerts, etc. This padded seat provides full back support, which is especially useful when sitting on hard bleacher seats or benches. A convenient shoulder strap allows the pack to be carried and used as a tote bag (featuring state-of the-art Thermo-Guard insulation). Utility pockets keep essentials at hand. With the Stadium pack, you'll always sit in comfort. Makes a perfect gift!
Dimensions:
17" x 17"
---
E-Mail US For Prices and Ordering