---
Sports Chairs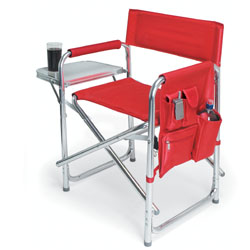 Available colors: Hunter Green - Navy Blue - Black - Red
Description:
The lightweight and durable folding aluminum Sports Chair is perfect for outdoor leisure. In addition to being lightweight, a removable shoulder strap makes this chair very easy to carry. The extra-wide seat (made from durable 600D polyester) and padded armrests were designed for optimum comfort. The large side flap has a velcro pocket for a cellular phone, a velcro pocket for sunglasses, a large zipper pocket to hold valuables, and an insulated wine/water bottle holder (protected by Thermo-Guard). A convenient side table folds out to hold food, drinks, etc. The sports chair makes an excellent gift!
Dimensions:
30.5" High 22" Wide
---
Know What Your Getting Before You Buy !
Note #1 The Material - of this chair is 2 to 3 Times Stronger then any other !
Note #2 Table Tops - Most are now made of masonite if you spill a drink on them or leave outside they may bubble up, warp, twist. - These Will Not !
Note #3 The Back Cushion - Many complain about the pipes ripping through, These are Protected !
Note #4 Table + Chair Braces - some use plastic, These are Aluminum !
Note #5 Weight Rating - Some are 150lb, 160lb, 180lb or 200lb - These 300lb !
Note #6 Life Expectancy - We have heard many many complaints of otherís chairs lasting Only Months or Weeks or Days !
PLUS Lifetime Warrantee
We have seen These chairs Over 8 Ĺ Years Old + others have told us of their 9, 10 and 11 year old chairs like these.
---
Stadium Seats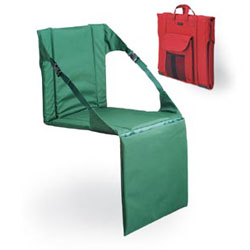 Available colors:
Red /with Black Trim - Green /with Black Trim - Navy /with Black Trim
Description:
Portable padded stadium seat with 2 large utility zipper pockets, adjustable shoulder strap, made of 600D polyester canvas. The Stadium Pack is ideal for anyone who enjoys sporting events, concerts, etc. This padded seat provides full back support, which is especially useful when sitting on hard bleacher seats or benches. A convenient shoulder strap allows the pack to be carried and used as a tote bag (featuring state-of the-art Thermo-Guard insulation). Utility pockets keep essentials at hand. With the Stadium pack, you'll always sit in comfort. Makes a perfect gift!
Dimensions:
17" x 17"
---
E-Mail US For Prices and Ordering