COLOR

Cameras &

Monitors

The Premier Rear-Vision System for Motor Vehicles

"Changing The Way You View The World"

A simple, easy-to-use mirror-vision Package that enables drivers and/or riders to see what's behind them. It consists of a high-resolution, color display mounted on the front of the vehicle that displays real-time images captured by an infrared or low light camera mounted at the rear. Be a safer, more aware ride.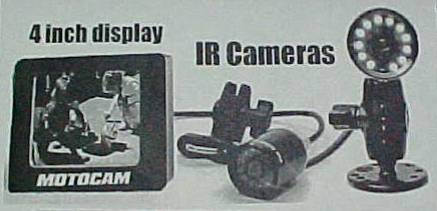 4-inch Color Display - Infrared Camera - Voltage Regulator - Mounts - Cables and Connectors

For:

Cars + Trucks

, Commercial Vehicles, RVs + Motorcycles, Go Carts + ATVs,

Race Vehicles + Boats, Truck + Trailer Combinations

(with 2 Camera Systems)

To:

Monitor - for Security, Reduce Blind Spots by 98%, Rear Vision Systems,

Race + Event Recordings

(Improve Your Driving Techniques !)

Prevent Fatal Back-Over Accidents !!

Color Monitors - 4" WaterProof
Available in: Black - Brushed Aluminum - Chrome
or 7" Indoor Monitors.
Color Cameras - Infrared, Full Color, High Resolution, 420 Scan Lines,
35 Ft. View in Total Darknes

or

Low-Light Color Pencil Cameras

with 380 Scan Lines

Cables + Connectors -

Dust Proof , Waterproof + Locks in Place

Mounts -

Quick Release for Easy Change,

Adjustment + Theft Prevention

Plus Multiple Mounting Options

Camera Systems –

Available to Connect to:

Your Existing Vehicle's Video Displays

WaterProof Systems For Recreation + Racing

Recording Systems with

Vehicle or Helmet Camera Mountings

+ Microphone

(Available With Race Data Recordings Too !)

Why Should you Spend More $$

And Get Less !

The manufacturer will continue to develop new features and increase availability.

The beauty of this system that it's highly versatile.

You can use it on your motorcycle, boat, RV, and your SUV (just to name a few)