Blue OX Products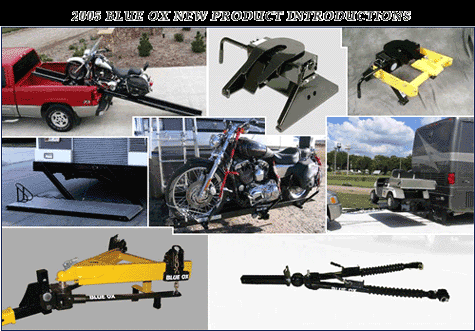 Tow Bars - Base Plates - Hitches - Ramps - Motorcycle Lifts + Loaders
Distribution Hitches - Sway Controls - Mobility Carriers - Towed vehicle Braking Systems
---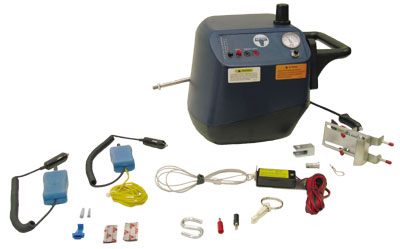 Towed Vehicle Braking Systems
The digital advantage. Apollo uses digital, rather than the traditional analog, communications. That means when you begin your stop, Apollo engages your towed vehicle's brakes within 1/4 to 1/2 of a second, instead of an analog delay of up to 3 seconds. And when it comes to braking, a second can be the difference between a safe stop and an accident.
Your RV's brakes were designed to stop your RV safely and effectively. But when the weight of a towed vehicle is added, brakes can become overburdened and fade or fail. That's why the Apollo™ Braking System, is such an important accessory for RVs used to tow a second vehicle.

Apollo is an easy-to-use supplemental braking system. It activates your towed vehicle's brake pedal, removing the entire weight of the vehicle from your coach's stressed brakes. And that means your RV is better able to stop quickly, efficiently and most importantly, safely.

Advanced braking made simple.
When you apply pressure to your coach's brakes the Apollo Unit analyzes the braking, in a fraction of a second, which applies pressure to the brake pedal. Once your towed vehicle's brakes are engaged, an Alert System (optional) transmits a signal back to your coach and illuminates a dash-mounted light to let you know the system is activated.

Apollo also contains a high-quality surge suppressor to avoid unwanted braking on bumpy roads, bridges or railroad tracks. For fine adjustments, Apollo offers eight sensitivity positions to fit your driving style and environment. And for breakaway situations, Apollo contains system that meets or exceeds all requirements in the United States and Canada.

T minus three minutes.
The Apollo Braking System can be installed in about three minutes. It requires no electrical or mechanical connections to your RV. There are no alterations to your towed vehicle. No holes to drill, no wires to splice and no brackets to mount. Apollo contains everything you need in one convenient unit–including an air compressor with gauge and regulator–that gets power from your cigarette lighter.

Apollo is also easily transferable between vehicles. It's small, lightweight and fully adjustable, so it can accommodate the different needs of a wide range of RVs and towed vehicles. In short, the Apollo Braking System is one of the most versatile, convenient and easy-to-use braking systems on the market today.

The Apollo Braking System brings together the industry's latest technology with proven supplemental braking standards. Together they deliver a truly unique and advanced braking system, designed to ensure you get a safe, fast and reliable stop - time after time.

Brakes stop vehicles.
Apollo transmits an engagement signal only when the brake pedal engages, not simply when the cylinder extends from the brake box. Together these benefits mean Apollo delivers a more accurate and reliable stop, with improved recognition of unexpected developments, like brake pedals that stick.

Intuitive features and design.
Apollo gives you the freedom to tow up to four days without concern for your towed vehicle's battery. It will not affect your towed vehicle's Anti-Lock Braking System (ABS), ride brakes down steep grades or wear brakes more than normal use.

With Apollo you simply get instinctive features that add safety and convenience, like gauges and controls that are conveniently located for improved visibility and access.
STOP FASTER and SAFER !
Do "You" Need A Towed Vehicle Brake ??