Automatic Wheel Balancers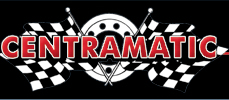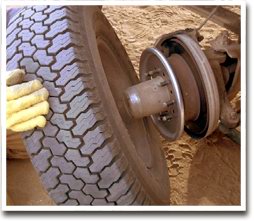 Now Available for
Centramatics Balancers Can:
Extend tire life 25-50%

Solve vibration problems.

Automatically balance while you drive.

Help prevent tire cupping.

Tires run 8-10% cooler.
Patented Centramatic Balancers are a unique line of "On Board" Balancing Systems for tires and wheels that maximize tire life and smooth your ride. Mounted behind the wheel they offer permanent solutions for balancing assemblies. Centramatic Balancers operate automatically and can adjust instantly for changing conditions.

Centramatics are available for Trucks, Tractor/Semi Trailers, Coaches, Buses, Delivery Vehicles, Motor homes, Trailers, Large Pickups, Jeeps and Police Cars. We even custom build for application-specific centrifuges.
Large commercial fleets consistently report increases in tire tread life up to 50% and elimination of tire hopping from out of balance wheels. When the vehicle is retired, Centramatics transfer to the new vehicle. No obsolescence here! Satisfaction is assured with a 5 year, limited, nationwide warranty and a 30 day, no questions asked, money back guarantee .
Centramatic, established in 1985, began by supplying the heavy duty trucking industry in the United States and Canada with a unique "On-Board" balancing system for steer, drive, and trailer axles. In the late 1980's, Centramatic acquir ed Perma-Balance, a company that manufactured balancers for light duty vehicles and automobiles. Their products were well known having been distributed by companies such as Montgomery Wards and Sears. This acquisition gave Centramatic a complete line of products from cars, pick-ups to eighteen wheelers. As the years have past, business has grown to over 2200 dealers nationwide, and some very prominent distributors as well. Paccar Parts, (Kenworth and Peterbilt), Freightliner, Sterling, Petro's, Travel Centers of America, Goodyear Wingfoot, TDS, GCR Tire Centers and Camping World are just some of the names you know and trust.

With this growth and many years of experience, quality and reliability are of utmost importance, so we back our balancer with a five-year warranty. Over 600,000 balancers have been produced and many balancers are still in service with over one million miles of operation. On display at our headquarters, is a balancer with 1,439,716 miles confirmed and still in working condition. We have reports of balancers with even more miles.

Maximizing tire life is a primary goal for Centramatic. That is why we proudly display a 24.5 steer tire with 221,325 miles and 4 drive tires with 436,235 mileson the original tread. We have testimonials abound.


Centramatic holds over 10 design and utility patents on this unique balancing concept and has other worldwide patents pending. Most heavy application balancers are made of 20 gauge galvanized steel with an aluminum balancing tube. One of our new processes actually forms a balancer from a single piece of aluminum. Anti-magnetic weights are suspended in synthetic oil and automatically redistribute as the wheel rotates. Centrifugal force places the weights in exactly the correct position, down to 1/10th of an ounce. This produces a continual dynamic balance. It also compensates for out of balance conditions created by tire distortion, forced radial variation and other factors that greatly increase with 70-75 mph speed limits. Centramatic balancers have proven to increase tread life up to 50%, reduce tire cupping, damaging vibration, and improve tire tracking. It is not necessary to pre-balance wheels with Centramatics, but it is recommended in some severe cases. Centramatic balancers fit 24.5, 22.5, 19.5, 17.5, 17, 16.5, and 16" wheel applications and contain no components that negatively impact the environment. Steer balancers simply mount behind the wheel and over the hub insuring static and dynamic balance. Drive and trailer balancers mount between then wheels, balancing both wheels simultaneously. Many of the nation's larger fleets have standardized on Centramatic balancers.

Building on success with the heavy-duty market, Centramatic introduced balancers for recreational vehicle applications in the early 90's. Centramatic balancers are now available through the nation's largest recreational vehicle retail chains as well as numerous catalog publications. In early 1997, Centramatic successfully developed balancers for the American General Corporation's "HUMMER".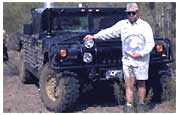 This further lead to development of balancers for M35 and M5 Military Tactical vehicles. After testing and evaluating our balancers in 1998 American General wrote a recommendation for the use of Centramatics on all Military Tactical vehicles. A GSA certification number soon followed, and sales to our Military began.

In 2001 new developments included balancers for Prevost, MCI coaches, along with new designs for 19.5 wheels and balancers specifically designed for the Detroit "Life-Cycle" school buses manufactured by Thomas Built.

New designs and developments are a large part of Centramatic's efforts to improve our products and remain on the leading edge of this technology. 2001 has also brought about developments and manufacture of balancers for large (over 5ft.in diameter) centrifuges and similar types of equipment. Whatever the future holds, count on Centramatic to lead the way.
Technical Information
The Centramatic solution is simple! Weights in Centramatic's aluminum balancing ring move opposite of out of balance points with wheel rotation by centrifugal force, at any speed. The wheel is dynamically and statically balanced at all times. Old fashioned lead weights are attached and can't move.
F.A.Q.
How do they work?
By using centrifugal force the free moving weights (durametal and synthetic fluid) sealed in the balancer automatically distributes to exactly where needed, placing the assembly in equilibrium or perfect balance. When a sprung assembly is out of balance, deflection is caused via the springs or tire sidewalls. These free moving weights sense this deflection and move opposite the heavy points to balance the entire assembly, wheels, tires, drums, hubs, even mud, snow or ice stuck to the wheels.

Should the tires/wheels be pre-balanced?
In most cases pre-balancing is not required. If a vibration still exits after installation, a computer balance of the problem position can indicate a mis-mounted or defective tire, a bent wheel or other "out of round" condition, that balance alone cannot correct. Wheel bearings should also be checked and defective parts replaced.

What about mis-mounted tires or improperly seated beads?
This problem can be found by inspecting the area where the wheel and tire meet. A guide rib or circumference ring is molded into the sidewall of the tire. Measure the distance from the wheel to the guide rib (approx. ˝ inch depending on tire brand), at the top, bottom and both sides, a variance in this distance indicates a mis-mount. A mis-mounted tire will roll out of round. This leads to erratic tire wear and vibration, regardless of how well it is balanced. Reseating the bead properly corrects the problem.

What is inside the rings?
Our balancing media consists of two parts. Part one is durametal, a hardened lead alloy similar to lead shot but 10 times harder. This is primary media, as a solid cannot change shape or form under centrifugal force. It remains exactly where needed under high speed. Part two, the dampening fluid is proprietary synthetic oil, designed to operate in the most extreme environments. The rings are about 1/3 full of this fluid. Its function is to lubricate, dampen vibration and help balance. However, a liquid alone would merely flatten out under centrifugal force at high speed and be forced back around the ring to an undesirable position. That's why we use the benefits of both solid and a liquid.


Should the rear duals and trailers be balanced?
Absolutely, the largest investment in tire dollars are on the rear. Typically, even when loaded, duals carry less weight per tire and are prone to pounding. This causes excessive heat buildup and excessive, erratic tire wear. Centramatics help cool the duals and one pair of balancers handles four tires, wheels, hubs, and drums. Rear drums are a major cause of imbalance on dual assemblies.

Can Centramatics help tires that are already cupped?
Depending on the severity. Tires that are severely cupped will receive marginal results. While tires that are slightly cupped will true out. The balancers cannot grow rubber back where it is gone nor will it make the deeper tread wear faster. One or the other would have to occur to be able to correct severe tire cupping.

How are they installed?
Simply remove the wheel, use the bolt holes as guides and reinstall the wheel. Steer axle balancers mount between the hub and wheel, while balancers for the duals mount between the dual wheels.

At what speed do Centramatics start working?
Most models start working at 20-22 mph depending on wheel diameter. This occurs long before vibration due to imbalance, which is at speeds in excess of 35 mph.

How many ounces of imbalance can they correct and how much balance media is used?
Balancer size Amount of media Correction potential
16"-19.5" fronts 10-16 oz. 8-12 oz.
16"-19.5" duals 18-24 oz. 16-20 oz.
22.5"-24.5" fronts 16-22 oz. 12-16 oz.
22.5"-24.5" duals 30-32 oz. 22-26 oz.

Balancers vary in model and size, the above are close approximates. Within each size are several models, each with specific specs and performance.

How long do they last?
We have balancers with 1,439,716 miles on them and still in good working condition. That's why we have a 5-year unlimited mile warranty and offer unequaled service.

What about alignments?
Alignments control the direction and travel of the tires. Vehicles must be aligned by creditable alignment facilities to exacting specifications. Premature tire wear and resulting vibration occurs if proper alignment is not maintained. Worn, loose or missing suspension components must be replaced. Centramatics balance the assembly and cannot correct alignment issues. Many forms of tire wear and poor handling result from mis-alignments.
---
What are the benefits to On Board Wheel Balancing on a motorcycle?

Longer tire life up to 35 to 50%
Lower tire temperatures 10 to 15%
Improved braking
Increased stability
Reduced vibration
Reduced driver and rider fatigue on long trips
Increased tire footprint and grip in turns

If you ever thought your motorcycle couldn't ride any smoother ... now it can !!

E-Mail US about Motorcycle Balancers