Air Horns
Made in

The USA
ADVANCED TECHNOLOGY - LIGHT WEIGHT - NON-CORROSIVE MATERIALS
Truly the Horn of the Future Today !!
Air Horns for Heavy Duty Truck, RV and Marine Use
Singles - Duals - Quads - Quintuplets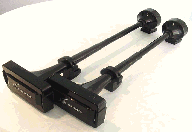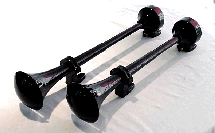 AIR HORN MODELS AND COMBINATIONS
17" OR LONGER MODELS AVAILABLE WITH
ROUND OR RECTANGULAR WEAHTERSHIELD
---
Our original air horn prototype was first fabricated in the late 1980's and born on the Fourth of July in 1991 when it sounded its first quality tone in celebration of the event. Unlike other horns on the market today these Air Horns are original, creative and unique. The exciting patented design concepts and manufactured in the USA utilizing ADVANCED TECHNOLOGY LIGHT WEIGHT, NON-CORROSIVE MATERIALS. The new modern design will become an American classic, as a relatively new company with over 60 years of first hand experience in the design and development of air horns. Combining our experience with our focus toward customer service and satisfaction you can rest assured and feel confident the products offered will continually exceed your expectations.
---

POWERFUL 12" MODEL IDEAL FOR HD TRUCK, RV OR MARINE
( Weighs less then 12 ounces )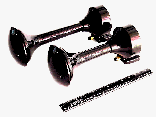 SPACE NOT A PROBLEM DUAL COMBOS AVAILABLE LESS THAN 14"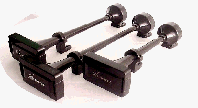 GO39500 TRI MED COMBO
GO32751 TRI SHORT COMBO

LESS THAN 14" Overall
Lengths: 12" 14" 17" 19" 23" 25" 27"
Accessories: Brackets, Round + Rectangular Shields, Air valves, Solenoid, Air Compressor, Tanks, Fittings + More
---
Models and Part Numbers
PART # Length

SINGLE HORNS
GO212XX 12"
GO214XX 14"
GO217XX 17"
GO219XX 19"
GO223XX 23"
GO225XX 25"
GO227XX 27"

DUAL COMBINATIONS
GO224XX 12" 14"
GO279XX 17" 19"
GO293XX 19" 23"
GO235XX 23" 25"
GO257XX 25" 27"

TRIPLE COMBINATIONS
GO327XX 12" 14" 17"
GO375XX 17" 23" 25"
GO395XX 19" 23" 25"
GO337XX 23" 25" 27"

QUADRUPLE COMBINATIONS
GO429XX 12" 14" 17" 19"
GO475XX 17" 19" 23" 25"
GO497XX 19" 23" 25" 27"

THE "QUINTUPLET"
GO577XX 17" 19" 23" 25" 27"

NOTE:
- THE LAST NUMBER IF (1) INDICATES
PUSH TO CONNECT FITTING INSTALLED
IF (0) NO FITTING
- THE SECOND TO LAST NUMBER REPRESENTS
RECUANGULAR (0) OR ROUND (5) WEATHER SHIELD

EXAMPLE: GO21251 12" HORN ROUND
WEATHER SHIELD WITH PUSH
TO CONNECT FITTING INSTALLED

ACCESSORIES:
GO10100 STANDARD MANUAL ACTIVATION VALVE
1/4 TUBE PUSH TO CONNECT INPUT FITTING
GO10101 OPTIONAL MANUAL ACTIVATION VALVE
3/8 TUBE PUSH TO CONNECT FITTING
GO70522 12VDC SOLENOID ACTIVATION VALVE
GO10045 DOT PUSH TO CONNECT FITTING

GO10100 MANUAL AIR VALVE
OPERATES 1, 2 OR 3 AIR HORNS